Practical Ways To Pray For Your Business To See God Move Powerfully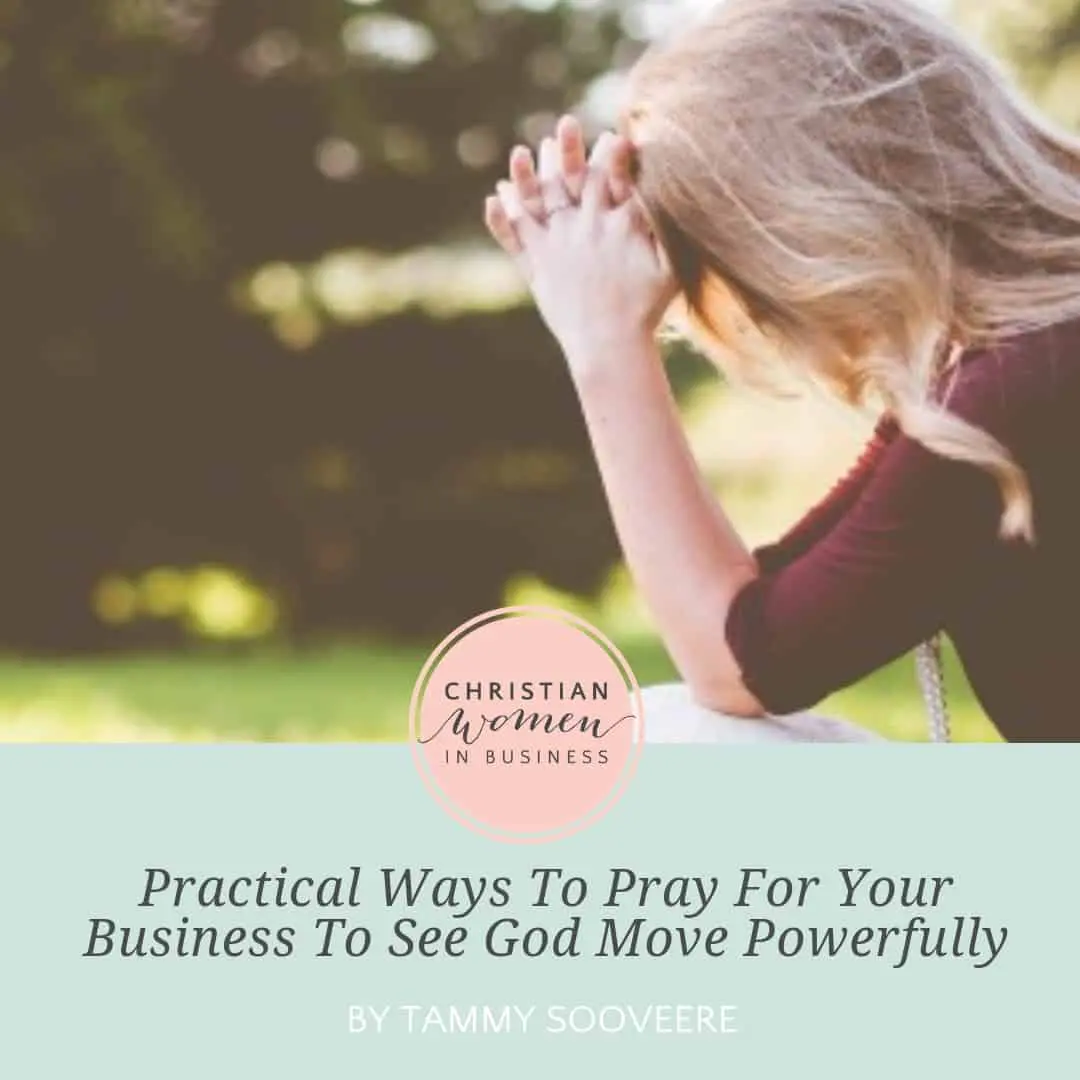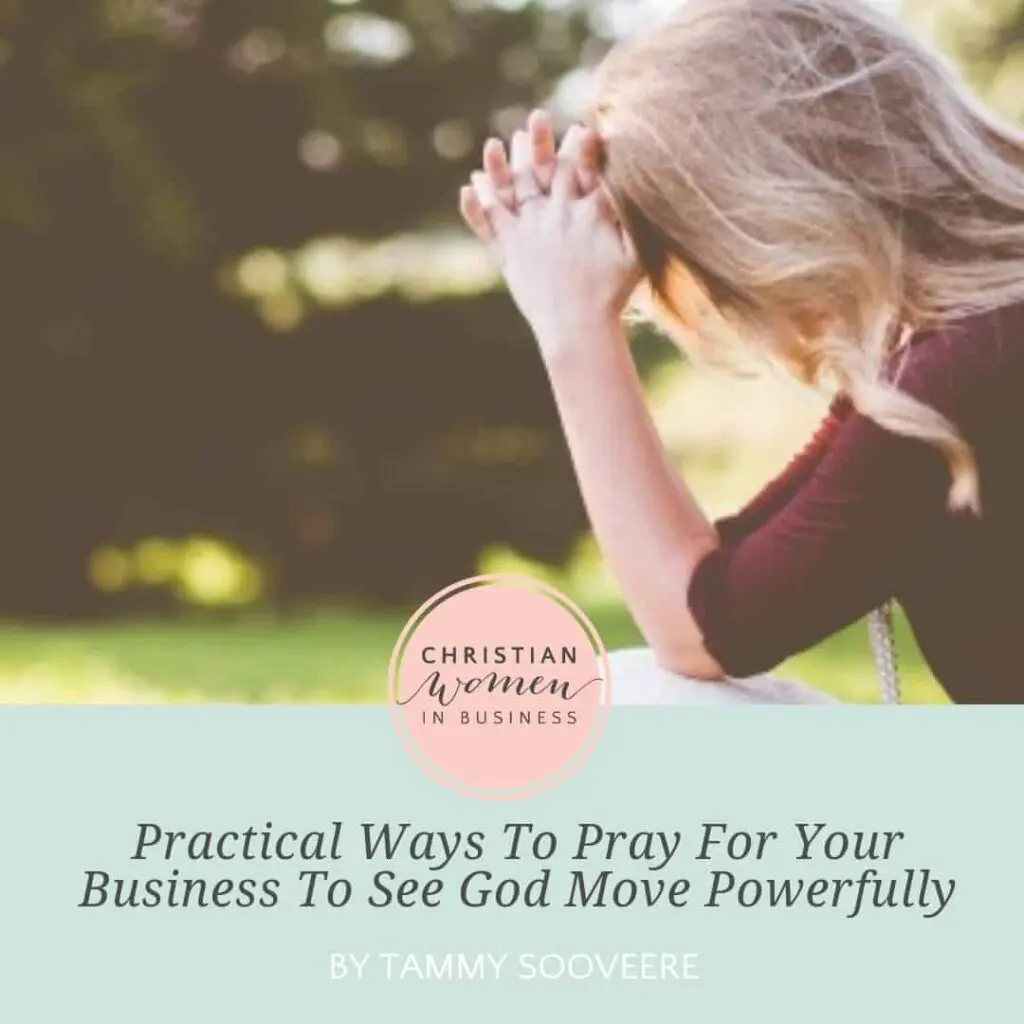 Whether you're running a side hustle or your business is your full time gig, as a Christian woman in business, you want to honour Him with your work. Dedicating your business to God and making the Most High as your CEO is only the first step to creating a Godly run business.


Today, I want to share some basic, but powerful principles, to help you warfare for your business so you can walk in His will and see the fruit of His hand on your business. For merely dedicating our business to God is not enough to keep the talons of the enemy out of it. We must use the authority that we have in Christ Jesus and the Word of God as our sword of the Spirit to fight to protect it.


Know the will of God for your business.


Before the Lord 's Prayer instructs us to ask God for our daily bread (or sales) it begins with two key declarations. The first acknowledges God as Lord of all. Hallowed be Your name! (If you haven't already made Him the head of your business, stop and do that now. He won't interfere until you give Him permission to do so).


The second is to declare that His will be done on earth as it is in Heaven.


So, what is God's will for your business in this season?


There are many ways you can hear the will of God for your business, from scripture to the living Word Himself, and also the gift of the prophetic.


God's word is a great place to start searching. Words in Jeremiah and Proverbs declare God's will for you (and your business) is to prosper.


For I know the plans I have for you, plans to prosper you and not to harm you, plans to give you hope and a future. Jeremiah 29:11


Give her of the fruit of her hands, and let her works praise her in the gates. Proverbs 31:31


Likewise, out of your relationship with God, by spending quiet time with Him, you can hear His will more specifically for you and the decisions that are laid out before you. Develop this relationship and the Holy Spirit will nudge, guide and direct your path.


There is also the Prophetic – Have you had any prophetic words over your life? Over your business? Write these out if you haven't already. They may hold secrets to God's leading for you during this time.


As you write out the will of God for your life and your business for this season these words will come alive as you declare them with the authority of Christ. Use these words as a declaration of your faith. For your faith can move mountains. When we move in faith aligned with God's will, and do not doubt in our hearts whatever we ask for, He will do.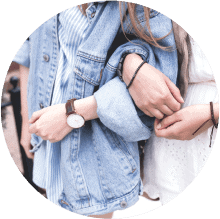 We're open for membership intakes and would love to invite you to become a member. It's time for you to join a community of like minded women.
What lies of the enemy are you believing?
God's word for your life always requires a step of faith (we will cover more of this in a later blog) but unfortunately as we step out the enemy is ready and waiting with a narrative of failure, of doubt, embarrassment and even condemnation. These lies are designed to halt our steps, steal our faith and derail our progress.
But for every lie of the enemy there is a promise in God's word. When doubt comes and causes your faith to waiver (and we all have those days) you need to be prepared. I have curated a few beautiful pieces of God's Word that you can use to silence the enemy. Have your list of promises ready and declare them over your life (even when you don't feel like it). Because as you resist the enemy and his lies, he is commanded to flee from you! And you will be free to live out the will of God for your life.
I am not good enough.
Matthew 6:26
Look at the birds of the air: they neither sow nor reap nor gather into barns, and yet your heavenly Father feeds them. Are you not of more value than they?
There's so many more talented than I am.
Ephesians 2:10

For we are his workmanship, created in Christ Jesus for good works, which God prepared beforehand, that we should walk in them.
I've got so much to work on before God can use me.
Psalm 139:14

I praise you, for I am fearfully and wonderfully made. Wonderful are your works; my soul knows it very well.
I've failed before so I'm afraid to try again.
Psalm 37:23-24

The LORD makes firm the steps of the one who delights in him; though he may stumble, he will not fall, for the LORD upholds him with his hand.
I've been disappointed before. It's hard to trust again.
Psalm 138:8

The Lord will fulfill his purpose for me; your steadfast love, O Lord, endures forever. Do not forsake the work of your hands.
Who am I to make a difference?
Jeremiah 1:5a

"Before I formed you in the womb I knew you, before you were born I set you apart;"
And there are so much more!
God has called you into business for a reason and He is interested in your business flourishing for His Glory! Take the tools He has given you. Declare His will be done and see His hand move.
Now this is the confidence that we have in Him, that if we ask anything according to His will, He hears us. And if we know that He hears us, whatever we ask, we know that we have the petitions that we have asked of Him.

I John 5:14-15