#33 Is It Ok For Christian Businesses To Make A Profit?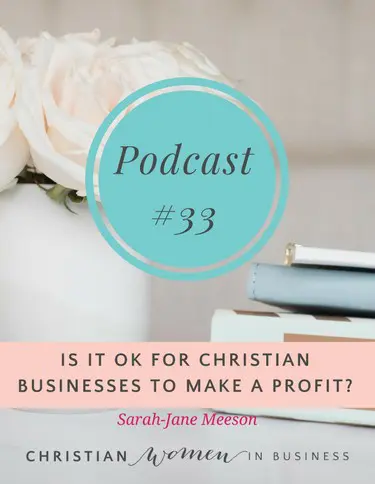 We completed a survey to find out what you wanted to learn about next year on the podcast and one of our beautiful ladies sent in a great question that we wanted to answer for you in this podcast.
It seems that the secular world has a generalised perception that Christian organisations/ministries should not be making profit. In practical terms, marketing communication efforts (outreach initiatives) and investments may turn off seekers with the perception.

How do we balance this perception with being comfortable making profit and reaping monetary rewards?
We hope you enjoy this podcast and here are some of SJ's notes to answer this question.
Yes, there is that perception out there, let's look at why…
Ministries have gone into countries and done things for free for people
You have big charities like the Red Cross who provide help for free
Churches also offer to help people for free
People have been trained because of this that all Christian organisations do things for free and now expect it.
Let me reassure you that doesn't have to be the case.
I've personally chosen CWIB to be a business and not a charity or not for profit so we can show by example that it's ok to be a Christian organisation and make a profit and what good we can do with being a profitable business.
We want to be an example for Christian women to go out there and make money and it's ok. Jesus leads by example and we want to do that too.
I've personally faced a lot of criticism for charging for our membership. People have asked why it isn't for free and it's because of a few reasons.
People have been trained to not value things that are for free. They only value stuff they pay for.
It's allowed us to grow. When I doubled the monthly membership it was through faith and being obedient to God's instruction. People baulked at me when I did it. But I was obedient to God and it was a huge step in faith. When I did it and followed God's instructions we had one of our biggest intakes! That now leads to us being able to put more money into our marketing and reaching more people, awesome!
We're able to have a blessing fund, where we can bless people out on the front line or people who are doing it hard. A portion of our memberships goes to charities, Kiva and if we feel led to bless someone.
This is the most important one! 1 Timothy 5:8 8
Anyone who does not provide for their relatives, and especially for their own household, has denied the faith and is worse than an unbeliever.
I encourage you ladies, to keep going and keep up you're great work! You're doing a fantastic job!
So what's happened for us whenever we've been obedient to God
We've made more profit
We've grown
We're able to keep growing