#35 CS1 – CELEBRATING THE HARD TIMES IN BUSINESS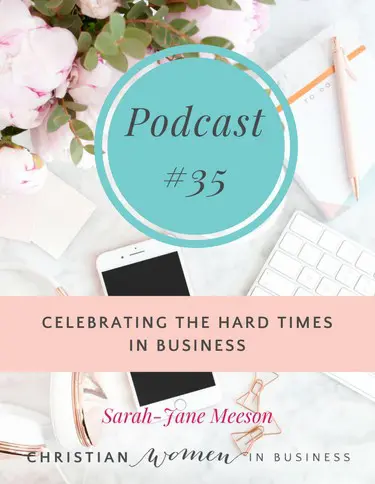 We're doing a celebratory series over the next couple of months leading up to our birthday celebration (aka #CWIBCC18) because we feel we have so much to be thankful to God for and we want to celebrate.
Each week we will be discussing a topic and adding some of God's Word. We want to inspire and encourage you in your business walk.
If you have any questions about business that you would like us to discuss, send them to hello@christianwomeninbusiness.com.au so we can answer them for you.
Our first topic for this series is – Celebrating the hard times in business.
The bible verse we discuss in this episode:
James 1:3-13 from NIV and The Message.
NIV: 3 because you know that the testing of your faith produces perseverance. 4 Let perseverance finish its work so that you may be mature and complete, not lacking anything. 5 If any of you lacks wisdom, you should ask God, who gives generously to all without finding fault, and it will be given to you. 6 But when you ask, you must believe and not doubt, because the one who doubts is like a wave of the sea, blown and tossed by the wind. 7 That person should not expect to receive anything from the Lord. 8 Such a person is double-minded and unstable in all they do. 9 Believers in humble circumstances ought to take pride in their high position. 10 But the rich should take pride in their humiliation—since they will pass away like a wild flower. 11 For the sun rises with scorching heat and withers the plant; its blossom falls and its beauty is destroyed. In the same way, the rich will fade away even while they go about their business. 12 Blessed is the one who perseveres under trial because, having stood the test, that person will receive the crown of life that the Lord has promised to those who love him. 13 When tempted, no one should say, "God is tempting me." For God cannot be tempted by evil, nor does he tempt anyone;

[8:21]
The Message: 3 You know that under pressure, your faith-life is forced into the open and shows its true colors. 4 So don't try to get out of anything prematurely. Let it do its work so you become mature and well-developed, not deficient in any way. 5 If you don't know what you're doing, pray to the Father. He loves to help. You'll get his help, and won't be condescended to when you ask for it. 6 Ask boldly, believingly, without a second thought. People who "worry their prayers" are like wind-whipped waves. 7 Don't think you're going to get anything from the Master that way, 8 adrift at sea, keeping all your options open. 9 When down-and-outers get a break, cheer! 10 And when the arrogant rich are brought down to size, cheer! Prosperity is as short-lived as a wildflower, so don't ever count on it. 11 You know that as soon as the sun rises, pouring down its scorching heat, the flower withers. Its petals wilt and, before you know it, that beautiful face is a barren stem. Well, that's a picture of the "prosperous life." At the very moment everyone is looking on in admiration, it fades away to nothing. 12 Anyone who meets a testing challenge head-on and manages to stick it out is mighty fortunate. For such persons loyally in love with God, the reward is life and more life. 13 Don't let anyone under pressure to give in to evil say, "God is trying to trip me up." God is impervious to evil, and puts evil in no one's way.
Enjoy!
To get your hands on a ticket to our Birthday Party and Conference Click Here >>