4 Ways of How To Get Over the Fear of Selling As A Christian Woman in Business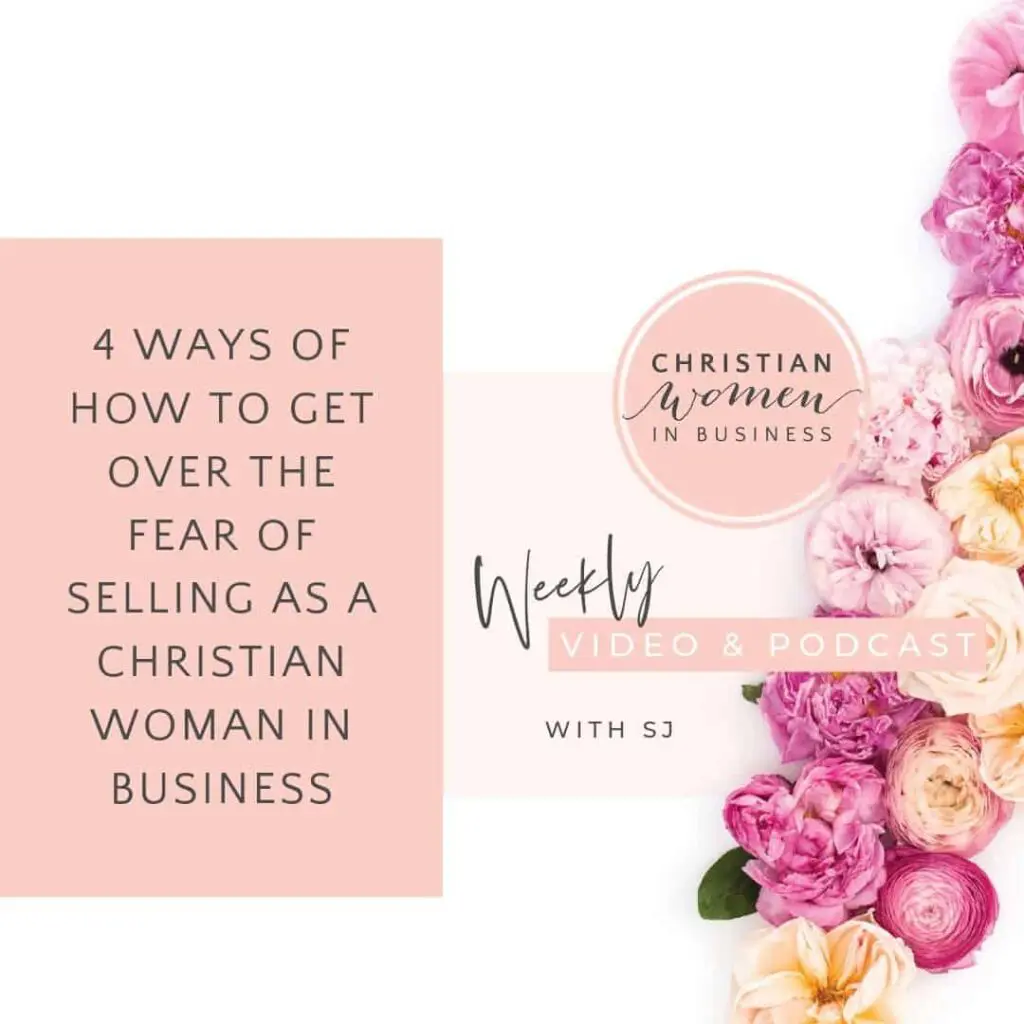 https://youtu.be/As5Jyfoo_aw
Do you struggle as a Christian woman in business to put yourself out there to the world and sell your product or services? I think it's something we've all struggled with from time to time so don't feel alone we are here to help.
Today I want to share with you 4 Ways of how to get over the fear of selling as a Christian woman in business.
1. Work out the values and mission of your business. What's the reason why you're in business and what values do you hold your company by?
Doing this will give you a clear direction of where you're going that's your bigger reason than just to pay the bills. Having your values set will help when it comes to writing your sales copy and how you interact with your customers.
For example; Some of our values at Christian Women in Business are Encourage, Strengthen and Unite. I know that in all that we do in our membership and in these videos is to do just that. So when I am selling am i encouraging, when I write an email am I strengthening?
2. Learn what your audience needs & provide them with a product or service that will serve and improve their lives. That way when you come to sell you know it's going to work so you can have confidence in that.
3. In your website copy, sales copy or when you're talking to your clients do it with a serving heart and have that serving heart in the front of your mind. Of course wisdom, but you don't have to be super salesey just do your best to try and serve them. How is what you do or sell going to improve their lives & results are they going to see/get.
4. Pull through with serving them and getting them the results. If we keep integrity, do the right by people and serve them well you've done your part and they will re-sell for you by recommending their friends and family.
To recap – Know who you are, know your values, learn your audience, find a product that will benefit their lives, show them how it will benefit their lives, pull through with the result all with a serving heart and you'll be selling like no tomorrow.
Are you ready to take your faith to the next level?
LADY, WE ARE SO EXCITED TO BRING TO YOU THE CWIB COMMUNITY CONFERENCE/RETREAT FOR 2020!
WE HOPE YOU'RE READY FOR AN AWESOME TIME…
DATES: 21ST FEB TO 23RD OR 24TH FEB 2020
LOCATION: THE COLLAROY CENTRE, NORTHERN BEACHES – SYDNEY
*PAYMENTS PLANS ARE OPEN FOR THE NEW FEW WEEKS!!!
Founder Sarah-Jane Meeson was given a word to inspire women. Since then, Sarah-Jane dreamed about how she could inspire women and unite them together. She knew it was going to be for God and she knew she had a passion for business and just to see people thrive and be all that they can be: no matter what past they've had, no matter how much money or where they come from. It's about them being the best person they can be for God and to help share their story of how God has worked through their life and business.
After chatting with a girlfriend and sitting on the idea for a while, God kept prompting her heart to bring this movement of women together. After some time, Sarah-Jane knew what she needed to do; she bit the bullet and now here it is. Christian Women in Business – a movement of Christian women pushing forward for God in their businesses … and it's great!