#9 – Ways to Focus and be More Productive with Sharryn Ludlow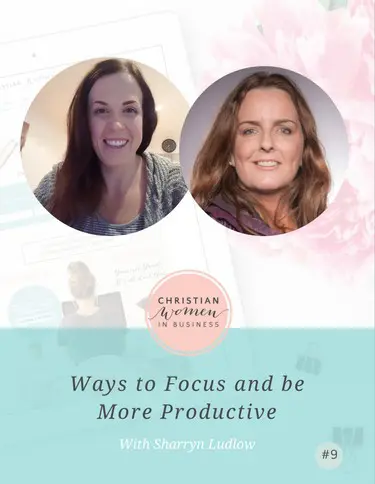 This week on our podcast show we introduce one of our Foundation Members, Sharryn Ludlow.
About Sharryn
For over two decades Sharryn has been dedicated to helping others dream, change and grow. She is a strong advocate of faith and the development of individual potential and success. Which is why she has founded GraceAndConfidence.com. She believes it is her true calling to inspire and release people into the full opportunity of their God designed potential.
Her Story
Her story includes over 13 years of online business, 2 eCommerce stores selling physical products and events. Soon, she discovered that she was always reaching a limit to her capabilities, where she could only "go so far". This brought her on a path to personal growth and development that lead to her current journey of coaching other women to help raise their level of effectiveness and become more profitable in their business.
Sharryn has in many transition periods in her life, but by far her biggest transformation was the day Jesus came into her life. She considers the 25 years she has spent in international gospel ministry as her over-arching story, from the time she met Christ. Taking faith into the streets, into the nations has been her passion, and when you combine that with the Biblical endorsement of God for business, she finds that we are less likely to fall into the trap of focusing on the wrong things. Instead, your focus becomes what His purpose is for your life and that it is big, and that you are supposed to influence the nations and that you have to partner with God.
5 Tips on your Craft
Do a brain dump – write everything down and get it out of your head
Give it Definition – Put things under categories and then prioritise
It's ok to make a decision on what you're going to work on
Create a deadline for those things
Start implementing
Your bible verse for this season
Deuteronomy 32:13
He made him ride on the high places of the earth, And he ate the produce of the field; And He made him suck honey from the rock, And oil from the flinty rock.
How do you incorporate God into your business?
When delivering content, or coaching, she endeavors to listen to the Holy Spirit while she listens to the people or person. It is part of achieving the goal of working for their sake and for the Kingdom of God.
Where can our listeners find you?
CWIB Profile | Website | Facebook
Sharryn's got a special giveaway for our lovely Podcast listeners!
CLICK HERE TO FIND OUT