Change Your Mind and Make a Profit – No is Not an answer – Just an Opportunity
My inspiration today is there is a way that you can profit.
Isaiah 48:17 says, "I am the Lord your God who teaches you to profit."
Notice the spelling: P-R-O-F-I-T. Now, why would the God of the universe say to us, "I'll teach you how to profit", if He then wasn't going to show us? He wants to show you.
Let me tell you a story: there was a man that worked in a factory. He was just sweeping the floor, and he was thinking, "There's got to be a way that I can increase financially. There's got to be a way that I can break this debt cycle over my life." He also knew the factory that he was working in was really struggling. That night when he went to bed, he woke up through the night with an idea. The next day he went and sat down with his boss and said, "I've got an idea that will double the turnover of this company…" His boss was intrigued, but the man continued: "…I'm not going to share it with you unless you give me one million dollars." The boss and the man with an idea drew up a contract. Long story short, he simply said to his boss, "Double the size of the hole." The man worked in a toothpaste factory. His life changed from that one thought. He became an overnight millionaire.
Just one idea can change your financial future.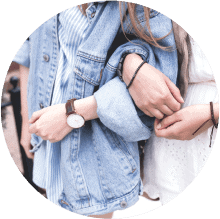 We're open for membership intakes and would love to invite you to become a member. It's time for you to join a community of like minded women.
So I encourage you, where there seems no way, there is a way. If we ask for guidance, God will give it. I've done that so many times; I've called out: "There's got to be a way!" I hate people telling me 'no' for an answer. I don't consider 'no' as an answer; I just think it's an opportunity.
Every setback is another opportunity for you to break through!
I encourage you today get your expector out! There is a way that you can break through and allow your money mindset movers to work for you. Put one in action today and get thinking, "There must be a way that I can break through."
RECAP
Today's reading:
"Thus says the Lord, your Redeemer, The Holy One of Israel: 'I am the Lord your God, who teaches you to profit, who leads you by the way you should go.'"  Isaiah 48:17 NKJV
Mindset to move: I CAN learn how to profit. Let your mind move forward into endless possibilities.
Ask yourself: What is in my hand? What resource, special gifting or talent do I have? What is in my area of expertise or experience that I could monitise to fund my future? What could I sell, write, do or explore?