Keeping Faith When Things Get Tough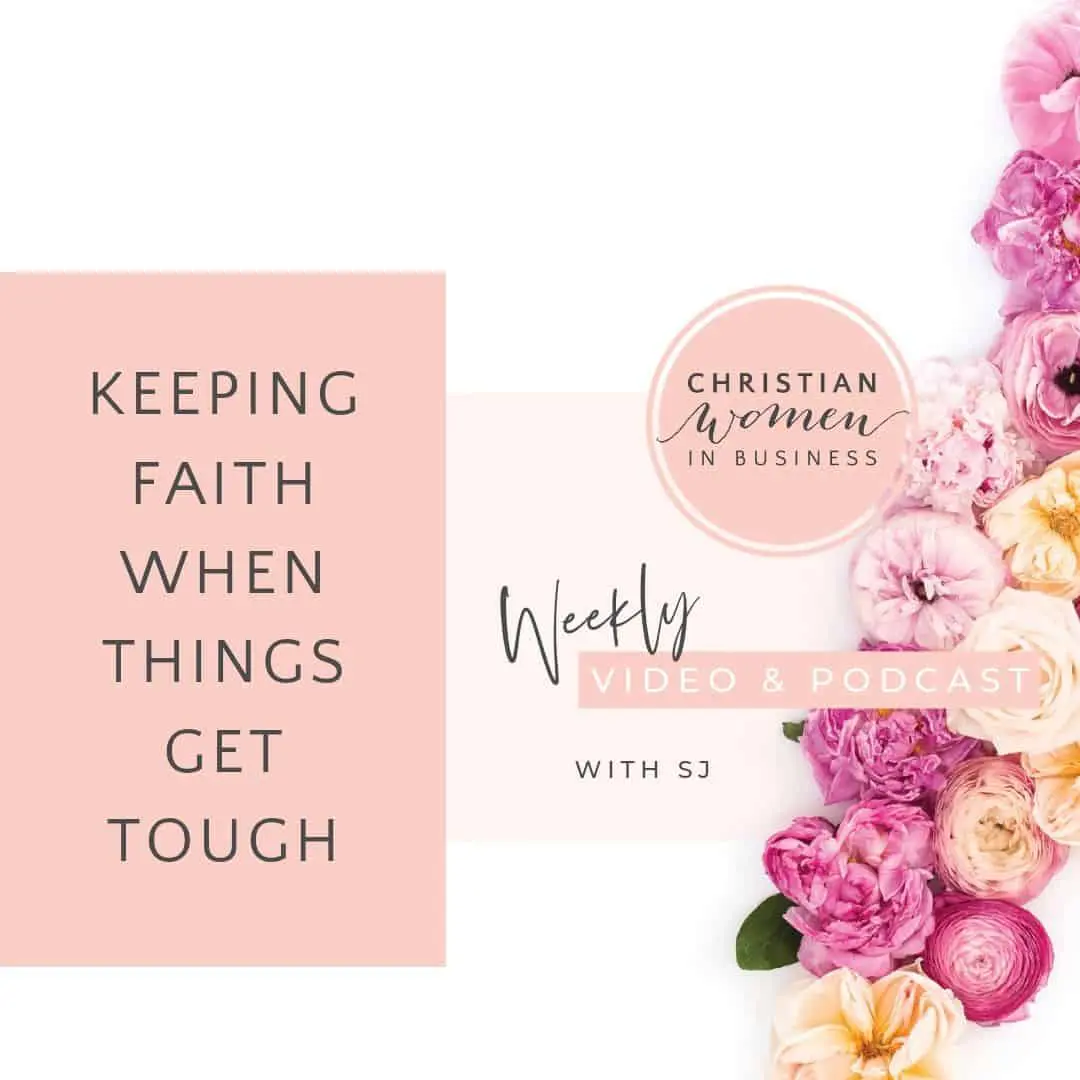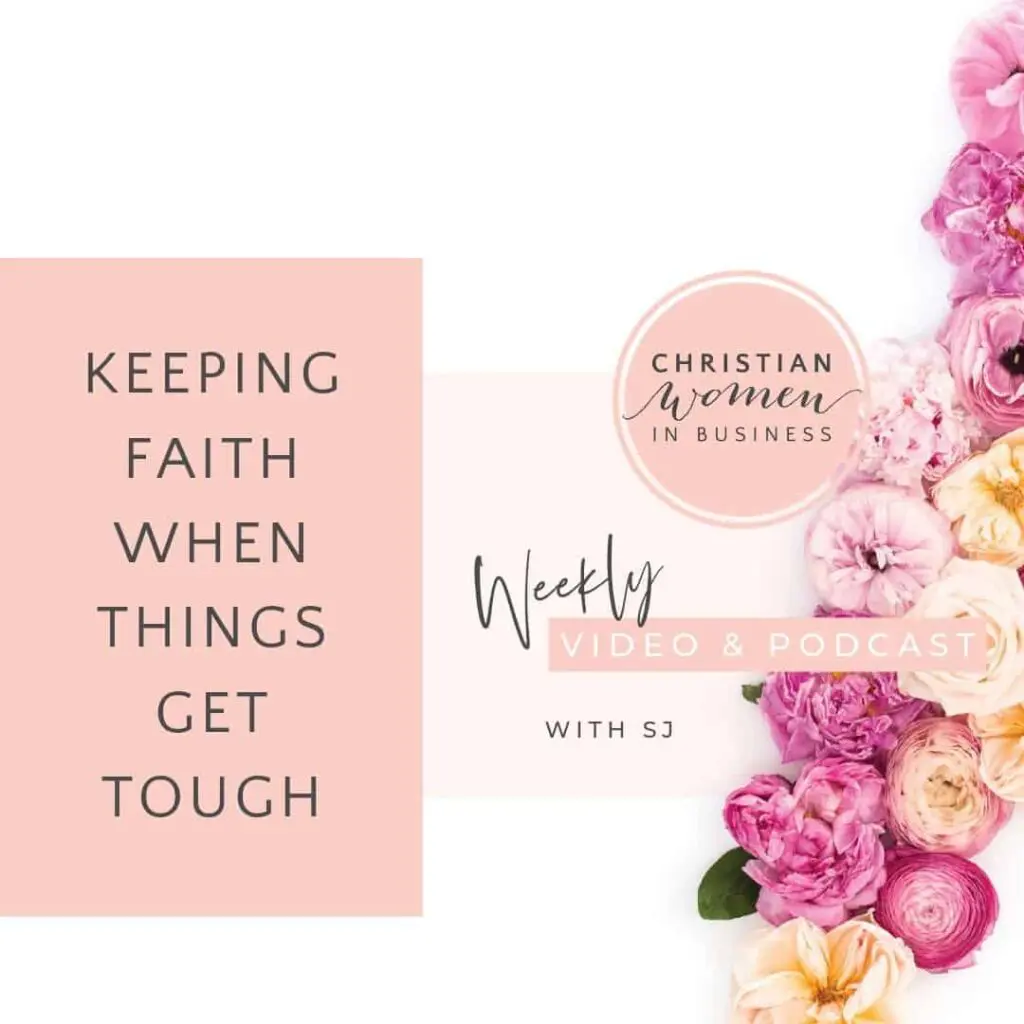 I have a question for you today and that's – Do you have times where you might wake up in bed and think that you actually can't face today or that things are just really tough in your business and in home life and you're just not sure where to go or what to do or even what to pray for?
I wanted to share something quite close to me today and be quite vulnerable and open to you and just let you know that you're not alone when you feel like that because I think when you're in that place of despair, where there's fear, there's anxiousness, maybe even depression and burnout. We can feel very, very, very alone and it does happen to us all in different stages of life at different levels of life and can affect us all really differently.
For me, myself, I have been through very bad burnout depression and anxiety altogether and it's only now that I'm even able to speak about it out loud to people because when you're in that state it is very, very lonely. It's very, very dark and it can feel like you're not being heard.
But what I want you to know is if you are feeling that way that you are being heard, that you are loved and that I care for you and I'm so glad that you're here and you might not even be as bad as that but you might be going through a really tough financial time in your business or things just might be feeling a little bit too much.
I want you to know that you are worth it. You are worth just being here for you. It's worse you keep going on with it as long as you're not pushing yourself to that burnout point and that God still has you. And I am so glad that He has you. And I'm glad that you are you.
And so I wanted to give you some encouragement from the man himself – King David and read this beautiful piece of Psalms that just melts my heart when I listen to it and I hope that it will be your encouragement today that people say you know how do I keep going when times get tough. How do I keep going ahead when I've got nothing more to give or I don't feel like I can give anymore? And I found personally for me it's to take a rest.
Obviously if I'm feeling that way things are get tough for whatever reason and I'm feeling overwhelmed with it all. We all have times of feeling overwhelmed but sometimes we just need to take that time out. For me it was a long time out and I'm slowly getting back into things now but it's taken a while and for others it just might be having a weekend or even just an afternoon that just gives you that time to just breeze to soak things in.
People really underestimate holidays and I know that the world's kind of go in on this complete other side of saying you know take too much care of yourself and all that self-love and everything. But if you are at that point of burnout overwhelmed or going through a really tough stage rest is actually key. And some people say oh you know it's not biblical. And there's arguments against it but God has shown me that I need to rest and I need to trust Him when I'm going through that if I'm at the point of burnout and overwhelm I've chosen to do things too much or too hard or God is actually just trying to get me to stop so He can do things and good things have come from it and He's shown amazing provision and it's amazing He's just looked after me so well when I did stop.
So I can't think that God does not want us to stop when we need to. I think He knows that we need to rest. We're in human bodies. Yes, we can do things to His strength and He can renew us but sometimes He does need us to stop to do that to get to that point.
Psalm 103 – King David
1 Praise the Lord, my soul;
all my inmost being, praise his holy name.
2 Praise the Lord, my soul,
and forget not all his benefits—
3 who forgives all your sins
and heals all your diseases,
4 who redeems your life from the pit
and crowns you with love and compassion,
5 who satisfies your desires with good things
so that your youth is renewed like the eagle's.
6 The Lord works righteousness
and justice for all the oppressed.
7 He made known his ways to Moses,
his deeds to the people of Israel:
8 The Lord is compassionate and gracious,
slow to anger, abounding in love.
9 He will not always accuse,
nor will he harbor his anger forever;
10 he does not treat us as our sins deserve
or repay us according to our iniquities.
11 For as high as the heavens are above the earth,
so great is his love for those who fear him;
12 as far as the east is from the west,
so far has he removed our transgressions from us.
13 As a father has compassion on his children,
so the Lord has compassion on those who fear him;
14 for he knows how we are formed,
he remembers that we are dust.
15 The life of mortals is like grass,
they flourish like a flower of the field;
16 the wind blows over it and it is gone,
and its place remembers it no more.
17 But from everlasting to everlasting
the Lord's love is with those who fear him,
and his righteousness with their children's children—
18 with those who keep his covenant
and remember to obey his precepts.
19 The Lord has established his throne in heaven,
and his kingdom rules over all.
20 Praise the Lord, you his angels,
you mighty ones who do his bidding,
who obey his word.
21 Praise the Lord, all his heavenly hosts,
you his servants who do his will.
22 Praise the Lord, all his works
everywhere in his dominion.
Praise the Lord, my soul.
I found that when I was in that deep dark place or in that struggle, whenever I feel that pain and that hurt, I just praise God. I just praise God. And I cry out to God literally thanking God for who You are. Your healing for your redemption and just read in that verse just brings warmth personally to my soul.
And I hope it does speak to you today that if you are the God fearing lady, God loves you. He's got your sins, He's redeemed you. He's gracious and He loves you and so do we.
I hope that encourages you today. Have a wonderful week in your businesses and our chat team next time.
Are you ready to join a community like no other?
We've created a sisterhood of Christian women in business who are completely in love with God and encourage each other on a daily basis with their businesses.
If you're after some Godly support as you grow your business…
We invite you to become a part of this amazing, heart felt community by clicking the button below <3

Founder Sarah-Jane Meeson was given a word to inspire women. Since then, Sarah-Jane dreamed about how she could inspire women and unite them together. She knew it was going to be for God and she knew she had a passion for business and just to see people thrive and be all that they can be: no matter what past they've had, no matter how much money or where they come from. It's about them being the best person they can be for God and to help share their story of how God has worked through their life and business.
After chatting with a girlfriend and sitting on the idea for a while, God kept prompting her heart to bring this movement of women together. After some time, Sarah-Jane knew what she needed to do; she bit the bullet and now here it is. Christian Women in Business – a movement of Christian women pushing forward for God in their businesses … and it's great!