Sacrifice Often Precedes Blessing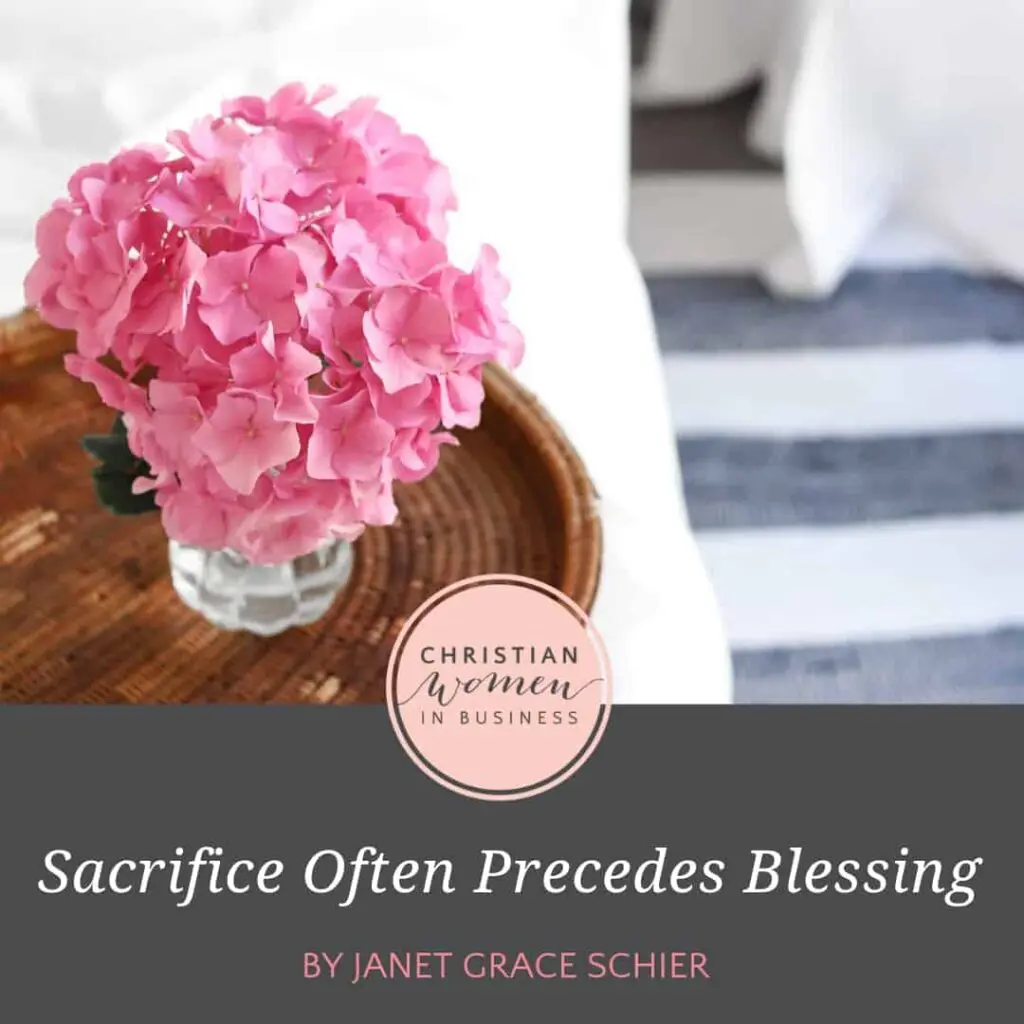 Let me explain.
Often, we have to give up something to get what we really want, so I've got a question for you today: What could you give up to get what you really want?
Many years ago, my son wanted to buy a home, and he'd already been to 4 banks, and all 4 banks had said no. He then went to a fifth bank, and I said to him, "Ask the bank why they won't give you the loan." So he did, and they said, "We can't give you the loan because you've got a car payment, and with the house payment it would all be too much." I said to my son, "Well, why don't you sell the car?" He said, "What? My new car?" (He only had it about 6 or 8 weeks). So he finished up taking the car the next day and selling it. He lost $5,000, but then the bank said, "Okay. We'll give you the money" and he bought the house that was directly across the road from where we lived.
Remember how he lost the $5,000 for the car? Well six months later he sold the house for $60,000 more than he'd actually paid for it! Over 6 months, he made almost $2,000 a week just by being willing to sacrifice.
What are you willing to give up?
Our Business Devotional Edition 2 is now available for you to Pre-order with FREE Shipping Australia Wide (limited time only)Our Beloved Business Devotionals are a collections of all our weekly Business Devotionals that we share in our community from the year before, from our heart to yours in the form of a book to encourage you in your business.
If you're thinking about starting a business or you'd like to learn about marketing but you're not ready for the membership quite yet, checkout our wonderful online courses.
Maybe it's smoking? Maybe it's having that coffee on the way to work everyday? Sometimes, we just have to give up one thing to be able to get what we really want. I want to encourage you to be willing to sacrifice some of the things, and maybe some of the comforts of home, that will enable you to have what you really want.
Years ago, when we drove away from Wollongong (which is where we came from), I read a sciprture in Mark 10:29 which says, "Whoever gives up mothers, lands, brothers for my name sake will receive a hundred fold." It goes on to say 'houses', plural, 'lands', plural. It also says "with trouble", which we do have to go through sometimes, to get where we really want to go.
I encourage you; we made that sacrifice when we moved from our beautiful home on the beach to come to Queensland, but 9 years ago my husband and I, along with our sons, started a building company and we have just completed building our 120th home! I think back to that scripture. Sometimes we just have to sacrifice. You will never know what's possible till your willing to let go of what is in your hand ask the boy with the loaves and the fishes in John 6:9 who had 2 fish and 5 loaves and in sacrificing them fed 5,000. I'm sure the widow in 2 Kings 4 who sacrificed her one jar of oil was happy to have received many jars filled with oil. What about the disciples who was asked to keep doing the same thing but try a different method and in obedience an sacrifice  did so and caught so many fish there nets overflowed.
All things are possible when you believe, but don't forget that sacrifice often precedes blessing. Be willing to give up some creature comforts to get what you really want or be obedient to the instruction of the Lord which is often a sacrifice in itself like forgiving someone who has hurt you.
Mark 10:29-30a NKJV  "…Assuredly, I say to you, there is no one who has left house or brothers or sisters or father or mother or wife or children or lands, for My sake and the gospel's, who shall not receive a hundredfold now in this time – houses and brothers and sisters and mothers and children and lands…"
Faith Statement:  I am willing to fight for our financial freedom. I choose to be obedient and willing to sacrifice whatever the Lord is asking.
Ask yourself: What is in your hand? Where could you make a sacrifice or a step of obedience to welcome in financial blessing?