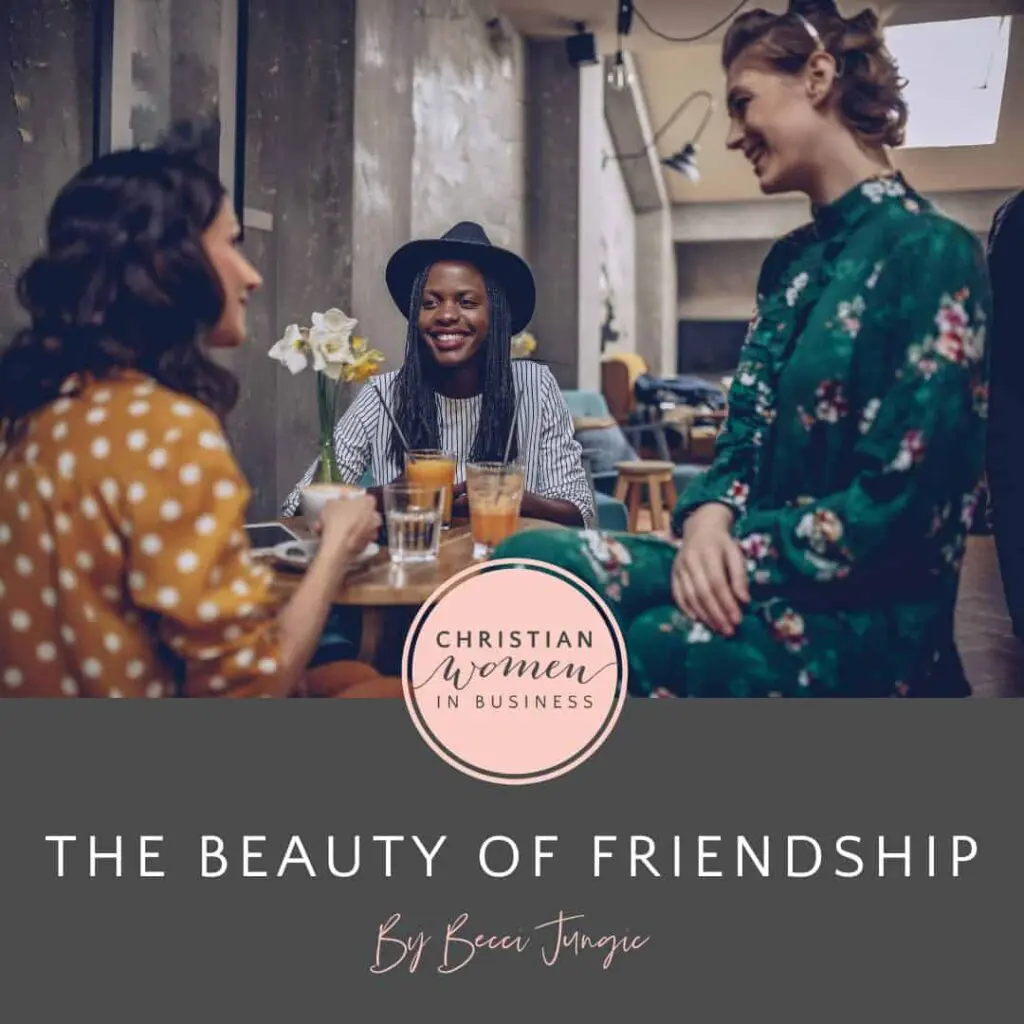 Perfume and incense bring joy to the heart, and the pleasantness of a friend springs from their heartfelt advice. Proverbs 27:9
The beauty of friendship is something to be treasured and appreciated. As I look at my days over the past month or so, I see a recurring theme. A coffee, video call or phone conversation with one of the beautiful ladies from CWIB.
When I joined the group it took some time initially to move from the business social meetups to exchanging phone numbers and now forming close and likely lifelong friendships. This is not with one or two ladies either, but I keep in regular contact with at least five ladies and that number increases occasionally (I'm always keen to become closer friends with any of our gorgeous members).
There is something special about what SJ has created. Following the leading of God in her life, she has brought some incredible friends into mine, for which I am so grateful.
The relationships I've developed with the ladies, while varied and unique are all incredibly special to me. Just this morning my accountability partner messaged me around 7am to ask if we could chat on the phone because she missed me as we hadn't phoned each other last week.
Today I've been writing back and forth with another dear friend, encouraging each other with the beauty of the Kingdom of God.
Still another friend I met face to face for the first time last week for a coffee after getting to know her over a number of online Business Socials.
Each woman, from different fields and with different passions, unite with a love for our Messiah and a desire to do life together. This blessing of having a community of women to uplift, encourage and learn from is simply beautiful.
Whether we need prayer, business advice or a quick coffee catch up, each interaction is supportive and something I am so grateful for.
For those new to the group, reach out, there are so many beautiful ladies to come alongside and share your hopes, prayers and triumphs with.
ARE YOU READY TO CREATE A POSITIVE CULTURE OR COMMUNITY THROUGH YOUR MARKETING & LEADERSHIP?
LADY, WE ARE SO EXCITED TO BRING TO YOU THE CWIB COMMUNITY CONFERENCE/RETREAT FOR 2021!
WE HOPE YOU'RE READY FOR AN AWESOME TIME…
DATES: 20TH FEB TO 21ST FEB 2021
LOCATION: ALEXANDRA PARK, ALEXANDRA HEADLANDS, SUNSHINE COAST, QLD, AUSTRALIA
 ***EARLY BIRD PROMO ON GOING***
To the ladies who have been there for a long time, thank you for being my friend.
A special word for those ladies struggling during this Covid-19 pandemic, reach out. We are here for you. We can all do with some virtual hugs and a cheerleader in our corner. You are not alone.
While actively marketing and social media engagement have taken a back seat during this season of my life, connecting with my friends from CWIB has not. Regardless of the season you find yourself in, continue to connect, encourage and be loved by your sisters in Christ. We love because He first loved us.
Above all, love each other deeply, because love covers over a multitude of sins. Offer hospitality to one another without grumbling. Each of you should use whatever gift you have received to serve others, as faithful stewards of God's grace in its various forms. 1 Peter 4:8-10
An invitation: If you need some extra encouragement, a friend to have virtual coffee dates with, someone to share worship songs and your love for Jesus with or would just love to get to know some of the ladies a little better, write a post in the Facebook group.
I love making new friends. You can always contact me directly. So much love to you beautiful lady.
Keep up the amazing work you are doing for God and His Kingdom.
With hope & grace, Becci.