THE FORTUNE IS IN THE FOLLOW-UP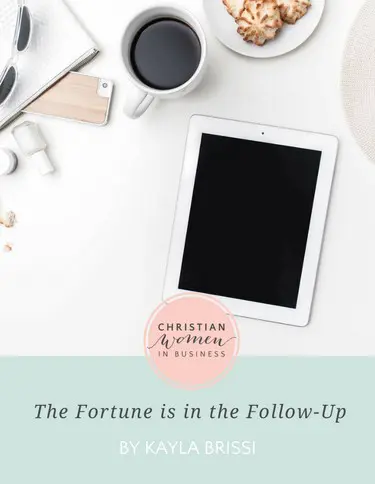 Do you struggle with networking and closing the sale with qualified leads?
Are you continually looking for more leads because your current strategy doesn't work to convert?
It's time for a change! Don't you worry, I have you covered.
The #1 mistake I see my clients make with their sales strategy is the lack of a follow-up strategy. A follow-up strategy is needed when nurturing your qualified leads so that you can convert and make bank. If you don't have a follow-up strategy in place, you're leaving money on the table!
What is a qualified lead? It's a prospect who has already expressed interest in your products or services or who has previously met certain qualifications and is an indicator that they're a likely candidate to become a client in the future.
What I'm about to share with you can be applied to any business, and then you're welcome to modify it further to meet the additional needs of your business.
What's in a follow-up strategy?
A follow-up strategy consists of the following three parts:
Strategy
Systems
Scripts
Alright, let's break these down further for you so that you can be well on your way to achieving your financial success!
STRATEGY
Without a clear and defined strategy for your following up with your leads, you are leaving THOUSANDS of dollars on the table. Yikes!
Imagine how different your life and business would be had you closed even just 25% of your qualified leads due to a rock-solid follow-up strategy. I bet it would look vastly different than it does now. Am I right?
A straightforward follow-up strategy to start with is a 2+2+2 follow-up strategy. It's super simple, easy to remember, and efficient! I'm all for keeping it simple sweetie (K.I.S.S.), and the K.I.S.S. follow-up strategy allows for that.
What you'll do is follow-up with a qualified lead two days from the initial meeting, then two weeks later, and then every two months. You'll nurture this lead through various ways so that you can build rapport, credibility, and the know, like, and trust factor.
How will you nurture this lead? You'll nurture and build the relationship by doing any of the following activities:
send a thank you card or special note via the mail
send a motivational quote via email or private message
send an email or private message saying you're thinking about them and wanted to say hello
send an email or private message with a video, blog post or article that you feel they would benefit from
send an email or private message asking about their family, weekend, event, day, business, etc.
send an email or private message to ask for feedback on a project of yours
send an email or private message to ask for their opinion on something you're working on
engage on their social media posts
join their list and interact via their newsletters
meet up for coffee locally or virtually
invite to local or online events
invite to follow you on social media
As you can see, there are a variety of ways you can nurture a relationship when building rapport. Keep in mind that on average it'll take a prospect 7-12x interactions with you before they'll ever be ready to by. Which is why following-up is vital the success of your sales game.
SYSTEMS
Part of staying on top of your follow-up strategy is by utilizing a customer relationship management (CRM) system, a task management system, or even a simple online calendar and a spreadsheet will do.
If you're bootstrapping it, you could use Microsoft Excel or Google Sheets for extreme simplicity. However, I recommend a task management system, like Asana, so that you can keep track easily of your leads, take notes, set reminders, and due dates.
If you're a serious entrepreneur and are willing to invest in a system, then I recommend a robust CRM system such as 17hats or Dubsado. Both of these platforms do a lot more than just track leads. They'll send invoices or quotes, handle your bookkeeping, store client notes, hold appointments, and more. Both are great options for a CRM and back office system for your business. Well worth the money!
SCRIPTS
I have a love-hate relationship with scripts. I am NOT a fan of pre-written scripts that you get from someone else that a lot of people use for their leads. They're fake, inauthentic, and usually don't sound anything like you. They make the person using them feel awkward, uncomfortable, and usually sleazy. No one wants to feel like a sleazy car salesman.
On the other hand, I LOVE scripts that have been written by you to use when corresponding with your leads. It's a brilliant way to leverage your time so that you can work smarter, not harder!
Writing your scripts can save you time from having to write up an entire email or private message to your leads individually. Instead, you could copy and paste the text, update the copy in the appropriate places, and send it off.
In addition to saving you a ton of time, writing your scripts ensures that it sounds like you! Nothing worse than when you receive a canned script that looks or sounds like a robot versus the fun, spunky, sassy, YOU!
Am I right?
Therefore, take some time to think of all the ways you would communicate with your leads. Think about questions, objections, topics, and even find curated content based on your ideal client's needs so that you can create a library full of scripts, responses, and curated content to save you more time while building rapport.
Work smarter, not harder!
As you can see, creating a follow-up strategy isn't too tricky, but it is the #1 mistake I see many entrepreneurs make. They keep shooting for more and more leads, but they never take the time to find qualified leads to nurture.
The fortune indeed is in the follow-up, and the quicker you adopt a follow-up strategy as part of your sales strategy the better off you'll be.
Share in the comments below: What is your #1 struggle when it comes to following up with your leads so that you can convert them into paying clients?