#2 – Using Bold Grace for Huge Impact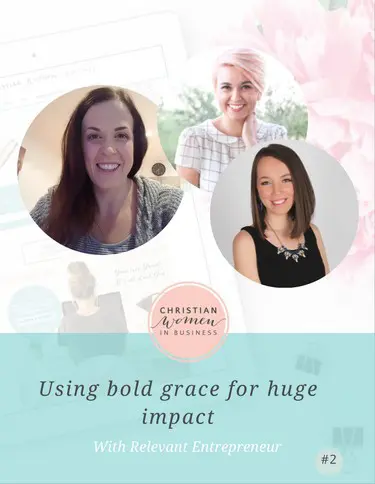 Ever wondered what it's like to run a business built on grace and God's favour?
Check in to this week's podcast where SJ interviews Kristin and Rebecca from Relevant Entrepreneur.
From calling to profit.
Kristen and Rebecca are equipping and empowering women to pursue their God-given business dreams.​
Kristin and Rebecca's Top 5 Tips:
1. Yield God's Timing:
You don't have to do everything at once.
It's a journey and God needs to teach you things along the way.
2. You don't have to do it all:
We bring the 5 loaves and 2 fish, God will do the rest.
You don't have to carry the burden.
The power of volunteers.
3. Throw away perfection.
4. Spend time with God daily.
God is your CEO.
You need to report to him everyday.
5. Do business together.
Rebecca'a words for the year: Bold Action, Complete Grace
Kristen's words for the year: Faith and Impact.
Bible Verse: Ecclesiastes 4:9-10
9 Two are better than one,
because they have a good return for their labor:
10 If either of them falls down,
one can help the other up.
But pity anyone who falls
and has no one to help them up.
Where to find Relevant Entrepreneur:
To learn more about how to become a member of Christian Women in Business click here.