#19 Your God Focused Mission in Business
Join us a we share our 5 day Facebook Live Series called Business Basics. We've recently launched a new workshop in our membership called Business Basics and we wanted to bless all the ladies out there who are thinking about starting a business.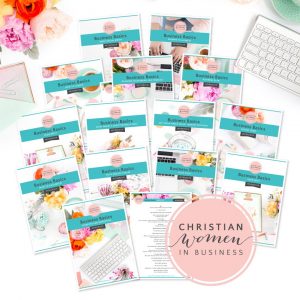 God put it on our Founders heart to encourage His daughters in business, so we want to do just that. Some of you ladies out their are thinking about starting a business and you have big dreams that God has given you. These are some steps to help get you started.
#19 Your God Focused Mission in Business
Last week we spoke on why's, the reason why you're starting a business. We've looked at what a business is.
Now it's time to turn that into a mission.
A mission is kind of what you're going to do and how you're going to do it.
Here is an example of our vision and mission (don't copy this, you need to find your own unique mission, don't worry God will help you write it)
To build a large community and directory of Christian women in business to help encourage, strengthen and unite them.

To see all the daughters of God that run businesses and who are in leadership to come together so they can form friendships, help and support each other and progress their career, business, leadership and personal growth.

To help them share their story and promote their awesomeness and business.

To build God's kingdom through the release of funds back into the kingdom through social justice and supporting business women in third world countries.

Feed the hungry, save the slaves, develop the younger generation to create the economy.

People invest in themselves to better the world.
Sit down with God and go through these following questions to help you figure out and write down your mission…
What vision do you see, that God has given you?
Who are you going to help in your business?
What values are important to you?
How are you going to do it?
Once you've written out your mission statement, we'd love to read it. Pop it in the comments section below so we can have a read <3
For more information about becoming a member of Christian Women in Business click here >>
For more information about our up coming conference click here >>