#39 CS5 – CELEBRATING USING YOUR VOICE FOR GOD IN YOUR BUSINESS WITH BEK STRACHAN
This week we're celebrating how awesome it is to have a voice and that through our businesses we can use our voices for good.
We have Bek, from Raw By Bek joins us for this podcast. Whoop Whoop!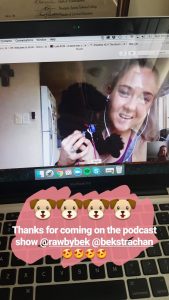 As a community of women in business, we have great opportunities to bless the world and communities around us by speaking goodness into people. We want to encourage you not to be afraid to share your voice and bless people with your voice where you can.
A good woman brings good things out of the good stored up in her heart. Luke 6:45
At CWIB we've been given so many opportunities to express goodness into people's souls, some have been through our media channels and other times it's been in unexpected ways.
Bek & SJ talk through the different times God's used them to be a blessings to someone's life, when they've needed it the most through kind words, prayers or just being a listening ear.
We know that running a kingdom business is more than making money. It's about being in the right place at the right time where God needs you to be so we can fill others with God's light.
The mouth of the righteous is a fountain of life…
To be able to fill others, we need to make sure that we are filling up ourselves on a regular basis.
Making sure we eat good foods, getting enough down time and learning to say no to things (the big scary word of "no" 😉), spending time with God and our families etc.
You have an opportunity to influence goodness around you. In your business to your suppliers, your customers and through collaborations.
Don't be afraid to use the tool of your voice to share goodness! You don't have to Bible bash or put the cross on your logo. Think how you might react to something that's a difficult situation that shows the goodness of God or encourage someone around who is having a hard day.
We thank God that's He's given us a voice and in our businesses we can do so much good with it.
Embrace your voice, learn to love it and use it to bless others.
Bek also shares with us in this podcast about her experience of being a member of CWIB (since the beginning) and how it's helped her in her business.
https://youtu.be/LgjExWjv348
Our first intakes for 2018 are opening very soon and we encourage you not to do business alone, but to come and join us in our membership so you can be connected with other like-minded women who love to help each other in their businesses.