5 Practical Ways To Bring God into Your Business
This podcast is for the woman who doesn't feel like she has time to blow her nose let alone sit down to the bible and read…
5 Practical ways to bring God into your business:
1. Praying on walks
2. Let Jesus interrupt your day
3. Listen to audio books
4. Pray and take dominion before meetings
5. Ask Jesus and the Holy Spirit for direction on things. God and be both your saviour and your business partner.
Learning to operate in the grace and not the grind, at the end of the day, getting into the Word is crucial.
Grab your free Module from the Enriched Biz Bootcamp, creating a God centred business for FREE to help you really get into the sing of running your business from a position of God at the centre.
We will have a Live online Workshop coming up 17th August – How To Market Your Online Course.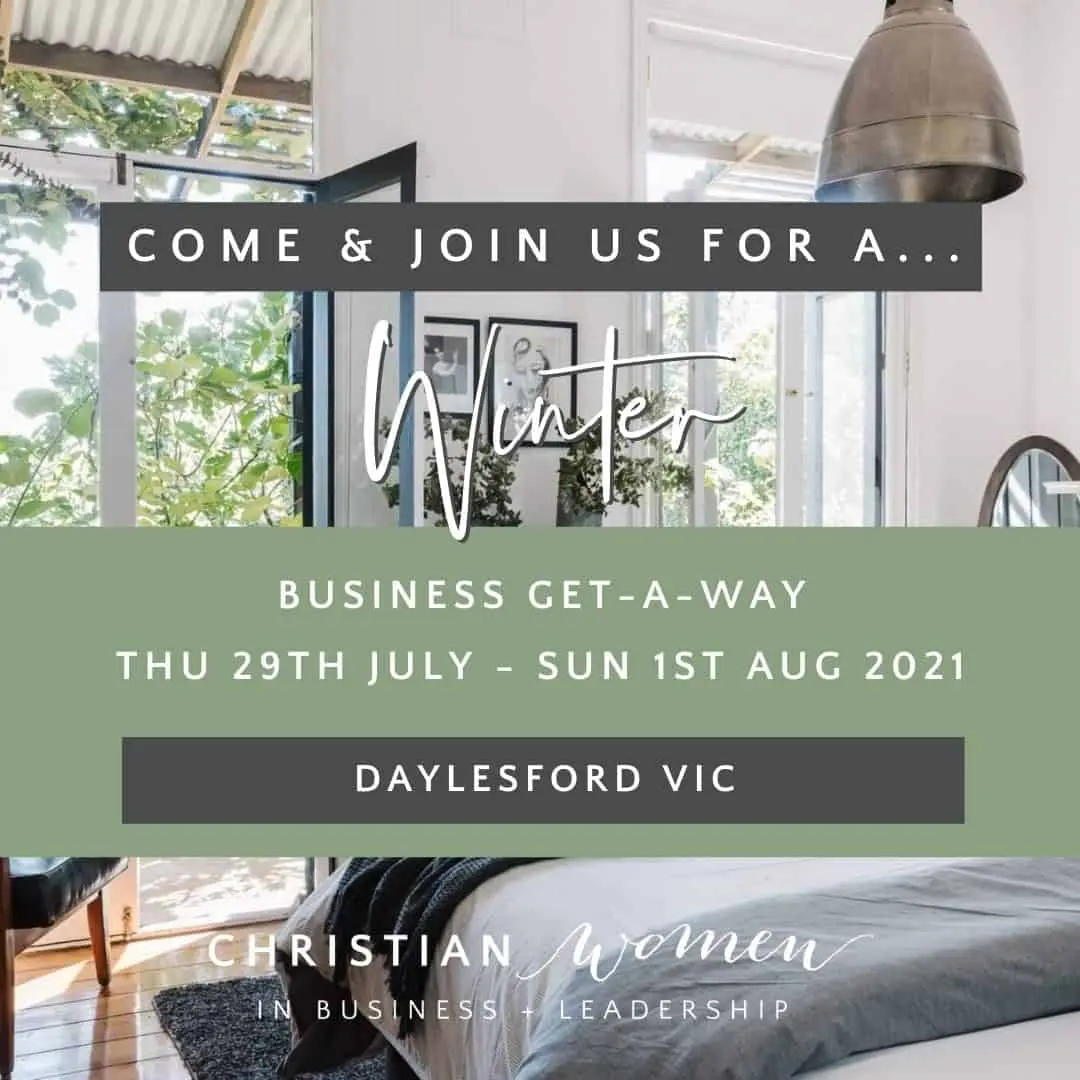 Are you in need for some space just to be able to think in your business?
With no distractions or procrastination?
Last Month, we released our Winter Business Get a Way.
Perfect for the lady whose ready to cosy up by a fire and get to work "on" her business.
What will the weekend look like?
 Thursday night you'll be welcomed and settled into your room then we will head about for dinner.
 Friday we will spend the morning making plans for our business & the goals we want to achieve.
 Friday afternoon, we will head down the bathing spas and enjoy warming the bones up and goodness from the mineral waters.
 Saturday, we will make headway on our goals/plans and spend the day working on and having the space to think.
 In the evenings, you're welcome to join us for dinner out or do your own thing. 
You will be…
+ Waited on all weekend.
+ Have an A3 printer available to use.
+ Free wifi
+ Enjoy the serenity of a quaint Victoria town. 
When?
29th July to 1st August 2021
Where?
Daylesford, VIC.
Founder Sarah-Jane Meeson was given a word to inspire women. Since then, Sarah-Jane dreamed about how she could inspire women and unite them together. She knew it was going to be for God and she knew she had a passion for business and just to see people thrive and be all that they can be: no matter what past they've had, no matter how much money or where they come from. It's about them being the best person they can be for God and to help share their story of how God has worked through their life and business.
After chatting with a girlfriend and sitting on the idea for a while, God kept prompting her heart to bring this movement of women together. After some time, Sarah-Jane knew what she needed to do; she bit the bullet and now here it is. Christian Women in Business – a movement of Christian women pushing forward for God in their businesses … and it's great!